Math is fun and should be very engaging for your students. One of the easiest ways to make your math lessons more engaging is to use Number Talks. What is so great around Number Talks? They are quick to implement and your students will love them.
Last week I uploaded a video on adding number talks to your math time. Did you see it? I'll post a link below, in case you want to watch it after reading this.
As teachers we are always looking for that perfect activity that gets students engaged. It takes a long time to get to this place. Some years I've had to use workbooks (bleh!) and sometimes I've been challenged to teach without worksheet (give that a try!), but I am very content with this current teaching approach, and it all begins with Number Talks. Teacher friends, this is a game changer! Number Talks make math engaging and set you up to be the cool math teacher!
Often teachers will complain that their students are not thinking "mathematically" but I would respond with, "what opportunities are you given them to do this?" Is it possible to focus both on our curriculum math standards and provide students with multiple opportunities to engage in thinking mathematically? I admit. There are times when I have failed and hunkered down on getting "work" done. But, happily, I can report that I've begun to be so familiar with the curriculum that I myself am making connections and figuring out what really is important. It takes time. Math is a meaty elephant.
But math is such a great subject. It is all around us. Even now, as I write this blog post, my digital editor is screaming percentages at me. It is telling me how often I am using the passive voice and scoring my readability levels. At this point, it's a green light, so let's keep going!
Number Talks Make Math Engaging!
Given that your math block is 60-90 minutes long, adding 5-10 minutes for a number talk is reasonable. Consider starting your math time with it. I have taught number talks a couple ways. I've added it to Calendar time. This is hit or miss. My goal is to keep Calendar time rich with math concepts but I also do not want students sitting in one spot too long. If you have only a few items in your calendar area, consider adding number talks to this time.
The other time, which I prefer, is at the beginning of math. I give each student a small white board, marker and eraser to keep in their desk. When the students see "Math" on the schedule, I always get, "Are we doing number talks?" It's pretty popular in my class!
Ways to Use Number Talks
As we are at the beginning of the school year, number sense is first on the list. How do you teach subitizing? Do you teach subitizing? You should if you have kindergarten, grade one or two. Create flash cards with ten frames, and dots on them. If you are feeling a bit lazy, there are some online. I use these at the beginning of the year and then periodically throughout the year, for review. Decomposing numbers, number bonds, patterns, "What One Doesn't Belong", "What comes Next", are all great concepts to use during number talks.
Students love number talks. I can tell you that engagement is high! I wish I had this when I was a student. And I love math! What is also great about number talks is that differentiation is fairly easy too. My students who normally struggle with find feel part of the class as they can do these also.
Resources
If you are looking for teaching resources for ideas, Sherry Parrish's book, "Number Talks" is just one book to consider. There are more on Amazon. If you are teaching math online (I am!) then try Steve Wyborney's "100 Subitizing Slides". Click here for his website.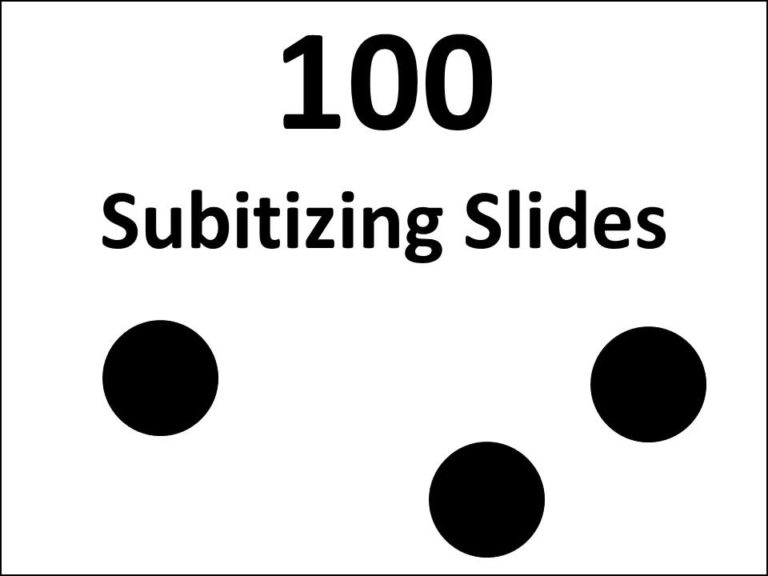 Honestly, just try it! It will take students 5-7 tries at this before they feel confident. The hardest things is to stop when you start doing this. It is a lot of fun. Laughing in math is part of the plan! There are also great discussions occasionally. This makes my heart happy. When you hear students talking mathematically to one another and asking questions, wow, it's a wonderful thing!
Are you looking for more math activity ideas? Try task cards or Boom Cards! Read more about here and here!