Whether you are teaching kindergarten to grade twelve, math journals are an excellent addition to your math curriculum. There are benefits for using journals:
students can reflect on their learning
shows evidence of student learning
they help students organize their thoughts
offer perspectives on solving problems
Math journals can look different, depending on what you want to use them for.
reflective journals – students document their learning
problem solving – use open-ended questions
specific focus' on a concept or topic
extra practice
challenge work
vocabulary building
Math journals can be in notebooks or online. As a primary teacher, I prefer notebooks. Currently, I use a blank (light blue) Hilroy (Canadian company) exercise book. I add a big label and viola, ready to go! I use Hilroy for all my exercise/notebooks. Hilroy are available on Amazon.ca, Walmart.ca, and Staples.ca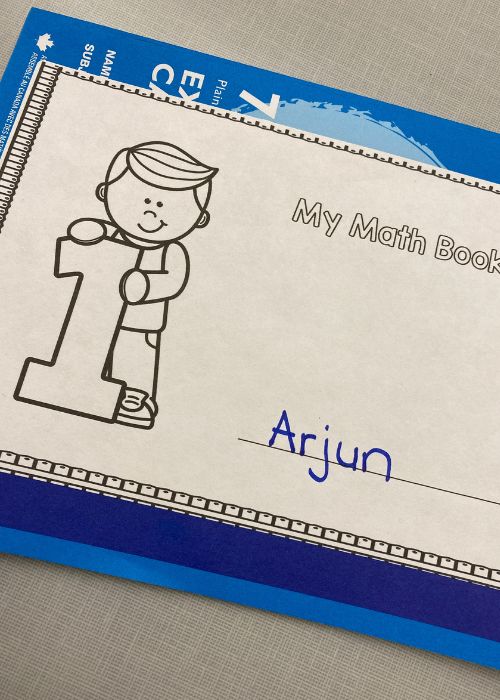 Introducing Math Journals
I start using these journals as a whole class activity. We create a routine as to the "how to use" them. A simple anchor chart can look like this.
I created this in PowerPoint and what I like about it is that I can enlarge it and hang it at the front of the class. Or I can shrink it, and place it in the inside cover of their journals.
After most students are able to do this independently (about a month), this activity becomes part of our weekly math routines. I like to do guided math for the 2nd and 3rd terms of school. It takes a while for students to gain the independence to rotate and focus on the activity. You can read more about math stations or rotations at the link. But once most of them have it, both the students and I really enjoy this block of math.
Frequency of Math Journals
Once math journals are a part of our math rotations, they get done usually 3 times a week. But this year, as I have varying abilities in the classroom, I plan to use them as an "early finisher" task. I don't know about you but I'm finding it harder to get all the math curriculum completed each year, especially since the pandemic. Adding math journals provides an opportunity to give some of those independent students a bit of "extra" math learning.
What's The Best Way To Start?
There are some freebie math journal entries available on TPT. Depending on whether you are looking for prompts, word problems or worksheet-style journal entries, there are a few on the marketplace to get you started. Math journals don't have to take a long time, so if your math block is 60 minutes, math journals can be as quick as 5 minutes (once they have learned the routine of doing it). Initially you may find it a bit time consuming to find "math journal" entries, so look on TPT for larger products, not just 3-10 pages. I'm hoping to finish a large Addition to 20 set this summer, which I'll add the link once it is uploaded.
Feel free to ask questions either about math journals, math rotations, or primary math in general.
Happy Teaching!