In many of our curriculum standards, teachers are required to teach composing and decomposing numbers. But what does that mean? Is it really important in the younger grades? Let's find out!
The Foundation of Composing & Decomposing Numbers
It all begins with Number Sense. Numbers are about relationships, patterns, sets, and if students can see the relationships in numbers, composing and decomposing should come easily. As you begin to teach number sense, composing and decomposing numbers should be a natural fit to your unit. I teach it during my "number talks" time, which is at the beginning of math time. Students have mini white board and we spend time all year looking at the relationships of numbers. Composing and decomposing is part of those relationships. There is a post on "Number Talks" here if you want to read more!
To teach composing numbers is to demonstrate how taking a couple numbers or a set of numbers can create a new number. For example, 2 + 3 = 5. Decomposing is the opposite. When want to start with a large number and break it down or up to see the many numbers that can be use to create or compose that number. For example, what are the different combinations of numbers that can used to show ten?
Use A Variety of Activities
Many teachers use number bonds, whether they be round or square. I use number bonds as part of number talks, but there are other ways to teach this concept of composing and decomposing. You may have heard of "part-part-whole". This is essentially the same. If you want to create a math station, you can use blocks, task cards, mini white boards, and any objects you can throw in a basket.
Why Do I Need To Teach This?
In our school district, one of the helping teachers, Sandra Ball (since retired), created a math website. I have learned so much from her. Sandra's writing keeps me excited about teaching math. She resonates with me because I want to know the research before I move forward with something. When it was suggested that I add number talks to my math lessons years ago, I wanted research. No one gave it to me. I reluctantly started number talks, but finding out about Sandra made me so happy. If you like research too, I'm sure you get this.
Anyways, Sandra gives research as to why we need to teach this. It really goes back to what was mentioned early. We need to teach children how to be fluent with understanding the relationships of numbers. Do children see the smaller parts within the bigger parts? Do they see the power that smaller numbers have with creating bigger numbers? Allowing children the time to experiment, manipulate, and think about numbers, builds their thinking stamina and number fluency.
Further Exploration
I'm going to start leaving a couple book recommendations for further reading or to share with your class
Teacher Resources:
Picture Books: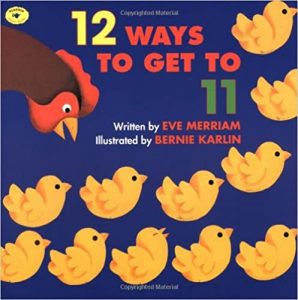 Are you composing and decomposing numbers with your students? What manipulatives, books or activities do you use? I would to hear about it!
Until then,
Happy Teaching!
Lori-Anne