One way to build community is to have a buddy class in your school. Having buddies gives students the opportunity to meet "older/younger" students in the school. It's exciting when my younger ones come in from outside and say, "I saw my buddy or I said 'hi' to my buddy!" When your students know familiar faces outside on the playground, it makes the experience for them 'funner'.
This year our grade one class is buddies with a grade four class. Some schools organize buddy classes, but the last couple of schools I've worked in, the admin. have left it to the teachers. We didn't have buddies during the last couple years due to the pandemic. So buddies are going to be a new experience for my students this year.
When I meet a perspective "buddy teacher", I will ask them if they have ideas of what they want to see happen during "buddy time." Often teachers are very flexible but personally, I like to have a rough plan for the year.
Are my students reading with their buddies?
Will the buddies be doing any arts/crafts together?
Will we change alternate classrooms, or break the classes up and have "half" the students in one room, half in the other?
Do we want to have a gym time, or field trip together?
Prior To The First Meeting
The buddy teacher and I take some time to select the partners. This is something worth doing. If you have a student in your class that lacks focus, then pair them up with a student who will help them. You will need to find out the needs in your buddy class and match up students accordingly. Do not leave partners to chance. This can prove disastrous for some students. I've had students crying because they were afraid of the big students.
The class buddy can potentially be an important friend for your students. We don't want this to be just "busy time". Big buddies can help little buddies with their reading or writing. Buddies can provide responsibility to the bigger buddies that often don't get a chance. As well, some students do not have siblings so this opportunity gives them a temporary sibling.
Meeting the Class Buddy
Much like planning your lessons, plan the buddy class meetings. Decide with your buddy teacher whether you will meet once a week or a couple times a month. Consistency is important for the students. But the first meeting will be very important. I often have younger students afraid of bigger students coming into "our space". I will pre-load or front load what is going to happen. That will lessen any anxiety in your class. We will talk about expectations and invite students to share ideas of what they would like to do with their buddy.
One easy activity to start on the first day is an "All About Me & My Buddy".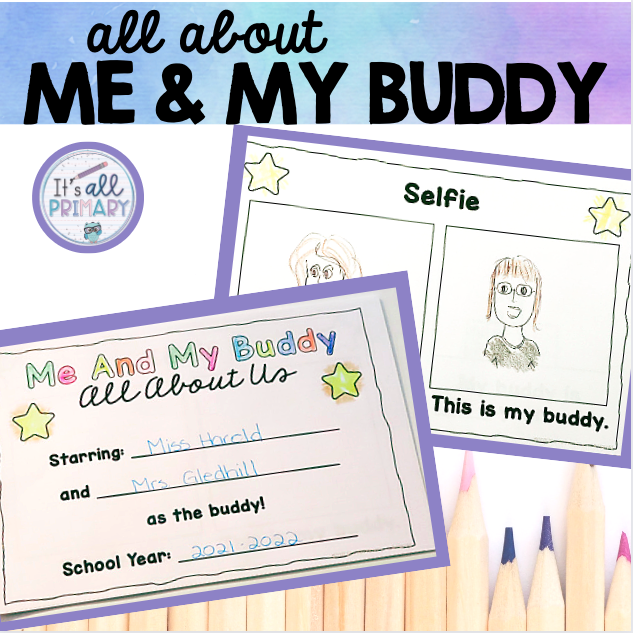 I've used booklets like this a few times. The class buddies sit beside each other and fill in their box. The hardest thing, when it is finished, is who gets to take it home? I make a photocopy of it for the buddies. This booklet provides general facts about the buddies and a few insights for the teacher.
This is a half and half book. Just print the pages you want and cut in half (preferably with a paper cutter).
We usually spend 30-40 minutes per class buddy time. We work on this booklet for half the time and read together for the other half. The booklet then needs about 3-4 meetings to complete (I copy about 8-10 pages).
Other Activities To Do With Your Class Buddies
Some activities we have done together:
reading
finish homework
go to the playground together
ice skating together
Christmas crafts
valentines
singing/caroling
STEM projects
Animal research for younger buddy
drama/reader's theatre
ask the students what they would like to do!
I would love to hear how you use buddies in your class!
Until then,
Happy Teaching!