This past Friday I attended an Early Literacy workshop and the presenter gave a lot of research to support her talk. Most of her ideas I completely agreed yet one still stands in my face. Let's start with the excellent stuff she said.
My Promise to You
I love this quote she provided from Valerie Welk. Isn't this so true? I think many parents expect their child to bring something tangible home every day, but it isn't always the case.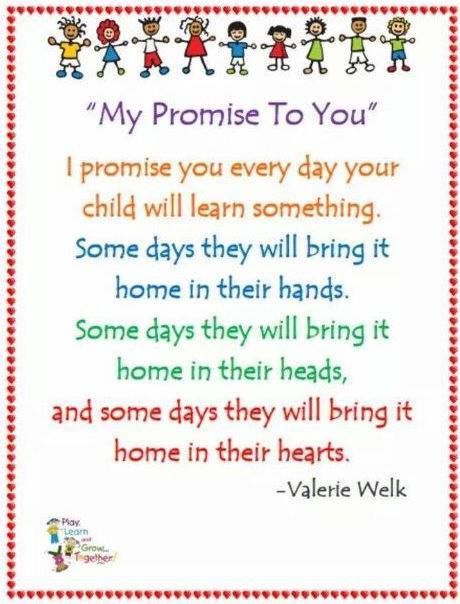 Foundations of Literacy
In the early years Literacy Foundations are all oral: alphabetic principle, rhyme, syllabication, segmenting and blending. These are the building blocks to a child's success as readers and writers. And this also brought to mind the many ELL students we have in our classes. If we are not starting with these foundations, many of them will struggle as they learn the English language.
Research on Phonics and Phonemic Awareness
Research says that children are more successful with reading and writing when their phonemic awareness is strong. But what is the difference between phonemic awareness and phonics?
The biggest difference is the delivery. Phonics is about the work done on paper. When I first started teaching, I was shown the phonics workbooks that each student would receive. After a couple years, I saw this more as "busy" work and I gave it up. From time to time, I would re-visit it. However, I felt the phonic books were not relevant to all the other Language Arts work we were doing. The book didn't follow what I was teaching in the class and I was taking too much time, looking for the pages that would match up with the oral lessons happening.
Phonemic Awareness is oral. Students are learning sounds, the little words inside the larger words, syllable, rhyming. All these skills need to be done orally, listening, hearing, manipulating sounds with our mouths. The spelling program that I use does a lot of this. We start with sounds and discovery the many ways letters make sounds. Research and Literacy suggests that phonemic awareness determines the success of a child's writing. If they can say it (oral), then they can write it.
Explicit Teaching Around Literacy
Research suggests that teachers use more explicit teaching around literacy. I was made aware of explicit teaching early on in my teaching career and have increased the use of it, particularly around literacy. In our classroom we spend a lot of time on teaching sounds of letters. When I hold up a flash card with a letter on it, I teach them to say the sound, not the name. Even two months into the school year, we are still reviewing single phonemes and the grade ones have learned about 10 two-letter phonemes. If there is a phoneme coming up in their spelling, it is taught before we get to that word. There seems to be quite a bit of support regarding explicit teaching in literacy and research that it is worth looking into.
Development of a Child's Hand
The presenter show this x-ray of a child's hand at 5yrs and 9yrs. This was fascinating! These x-rays were evidence that a child shouldn't be required to form their letters until later. However, I decided to do some investigating about this. I went to the website: bonexray.com and found photos of children's hands. Due to copyright I'm unable to post them, but I highly recommend visiting the site to see the xrays. Children at 5 years have hands that are wider. Their fingers seem more spread out. Even looking at the difference between 5 years and 7 years shows more narrowness of the hand. Bottom line is that kindergarteners' squiggle writing might be all that their little hands are capable of.
Kindergarten Squiggles
This is another full post by itself, but I will say as a teaser that I need to "embrace the squiggles" now. One book that I've read to the students is, A Squiggle Story, by Andrew Larsen.
Now I am not a kindergarten teacher. I have taught a multi-grade class (K-3) and the students in that class had developed fine motor skills so their printing was quite good. But that isn't the norm. Even seeing a couple grade one students this year and seeing the squiggles has me wondering how much I push them with their work. This story reminds us that children have stories to tell and squiggles may be their medium. If that is the case, then we need to learn how to read squiggles.
Currently I have a handwriting program that I have used for years. It is very similar to the local child development centre's programme. You can find a blog post on how I teach handwriting here. I have heard the research on tracing and the progression of teaching letters (please do not teach letter of the week), and I follow that. But what the presented suggested is that we do not teach size and formation of letters until later grade one and two. I have started printing in September and I've started it in January. I didn't see much of a difference between them. But I will say that I need to spend a little more time thinking how I will make handwriting adjustments in the classroom.
Summary of Workshop
It was excellent, period. Practical suggestions were given, support was offered. I've had the presenter in my classroom a year ago and found her to be a wealth of knowledge and the workshop confirmed this. Whether you are a new teacher or a seasoned teacher, we need to be aware of what research is saying about our children and how they learn.