After writing reports, I start re-thinking my unit plans and lesson plans. What has been working? What needs an overhaul? Maybe you are about to get your first teaching position and will be writing your first lesson plans and unit plans over the Christmas break. What is the difference between them? Keep reading! Unless you want to watch a video version.
Start With the Year Plan
At the beginning of the year I always start with the Year Plan, that is submitted to the administration (find out what plans your administration requires). I refer to this document often as it is the guide plan for the year. It tells you:
Subjects you are teaching
Themes
Units
Any field trips or special events
Big ideas for each subject
Progression of larger concepts
Breakdown of how you are teaching with a specific curriculum
Did you see in the list units? The Year Plan is the plan for the year. Using geography as a visual, the year plan is the country, the unit plan is your province, state or territory, and the lesson plans are the cities and towns in your province, state or territory.
The Unit Plan
The Unit plan is a comprehensive look into your approach to a theme or big idea for a subject. For example, if I am required to teach states of matter for science, then my unit plan is states of matter or solids, liquids, and gases. Within that document, I could be covering:
Curriculum objectives & goals
Student & Teacher Expectations
Essential Questions
Learning standards
Resources being used
Assessment strategies
List of activities
Lesson plan contents
Time frames
I can use my unit plans every year, if I'm teaching the same grade. I may modify them depending on class dynamics or results from a previous class. The unit plan will also contain a breakdown of the daily lessons that I will be doing in the classroom.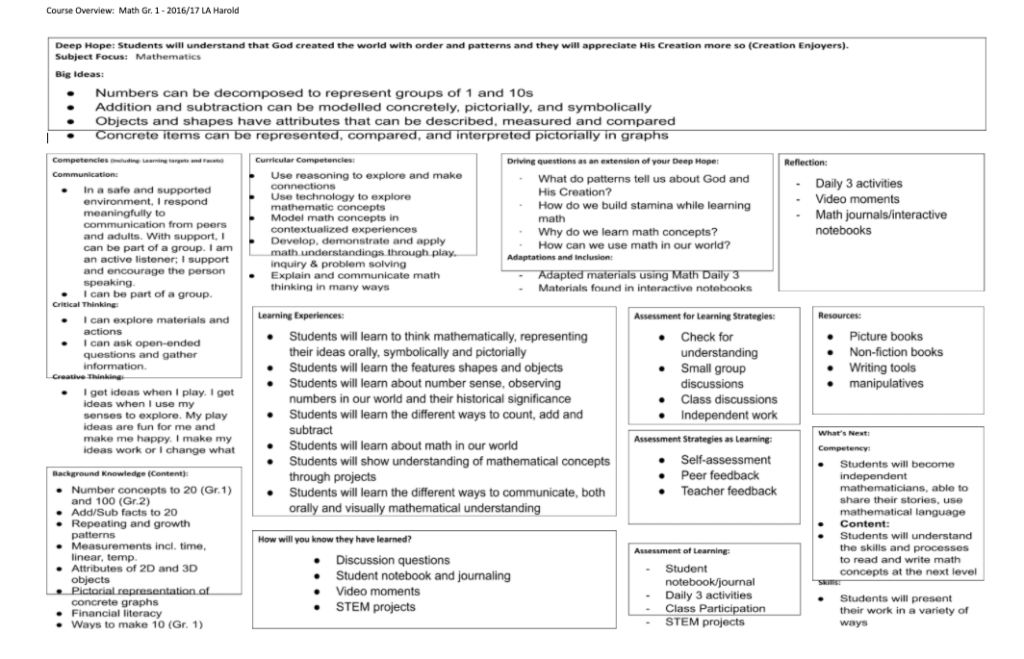 What is a Lesson Plan?
If you read the unit plan list (above), then you noticed that lesson plans are one component of the unit plan. Lesson plans are the daily steps that you are going to take to complete the unit plan. Depending on the size of your unit, you will have a series of lesson plans that will break down the learning standards and objects that are required for a subject, such as math.
In a recent video, I talk about a unit plan on graphing. Sitting down to determine everything I need to teach, I estimated around 16 lessons to accomplish the unit. That would be 16 lesson plans to be created. In some districts you are required to submit your lesson plans to the office/admin. Thankfully in our district, we are not.
The lesson plan contains the following:
learning objective
activities for the day
resources/photocopies needed for the day
teaching strategies
assessment strategies
content of your lesson
student expectations
reflection for afterword
If you would like to see more on lesson plan creation, check out this video:
Also, if you are looking for a FREE lesson plan template, you can find one on my Tpt store: click here.
Differences & Similarities
So let's create a simple table showing all three:
| | | |
| --- | --- | --- |
| Year Plans | Unit Plans | Lesson Plans |
| everything you are teaching in the year | one subject or cross-curricular taught over a couple weeks or term/semester | part of one subject or cross-curricular subjects |
| all learning objectives | learning objectives | learning objectives |
| list of resources for every subject | list of resources for one subject or cross-curricular | resources for the one time |
| list of themes, field trips and special events for the year | may have a field trip associated with the unit | there might be a field trip as a lesson |
| usually required by admin | usually required by admin | sometimes required by admin |
This is definitely not an exhaustive list, but it does give you an idea between the similarities and differences of the different types of plans. And I didn't cover one more type of plan, the day plan! You can find that post here! What does your administration require you to submit? Year Plans? Unit Plans? Lesson Plans? I would love to know. Please comment below.
Happy Teaching!