Every couple months I will see an Instagram post from a teacher I'm following offering activities for common exception words. Many school districts require common exception rules to be taught. So, whether you agree with it or not, this may need to be done. What is this list and how is it used?
Define Common Exception Words
Taking the definition from one source: "Common exception words are words in which the English Spelling code works in an unusual or uncommon way. They are not words for which phonics 'doesn't work', but they may be exceptions to spelling rules, or words which use a particular combination of letters to represent sound patterns in a rare or unique way."
Okay, while I feel a little better with the second sentence, I'm still thinking, "how are you teaching this list?" When I look at the Year 1 list, 90% can be easily taught using spelling rules. I teach these words to my grade one students and when they are taught with explanation, there are very few problems. Here's the Year 1 & Year 2 List: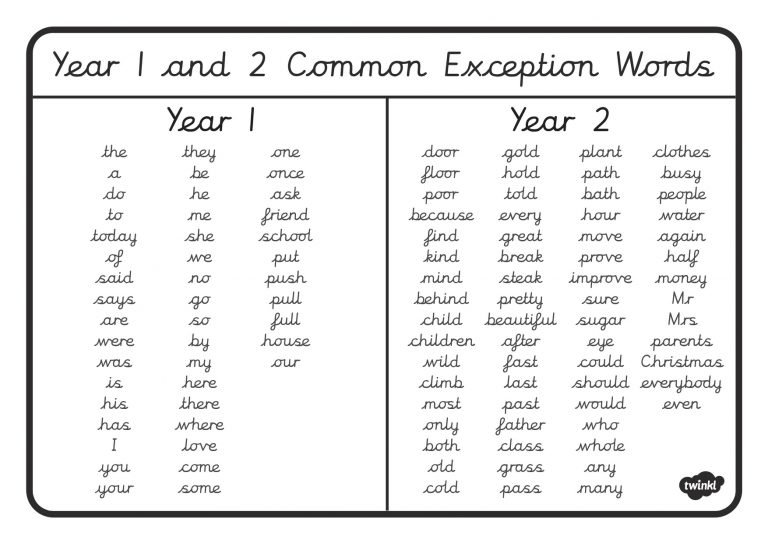 Is the Common Exception Words Like Our Sight Words List?
Now, I'm starting to see a pattern of the source of these documents. So before I get really judgemental (gasp!), would someone help me? I would really appreciate a teacher who uses these words, explain their approach to the list. Is this a sight words list like we have in North America? Please DO NOT send the list home and ask parents to help their child to memorize these words. There are better ways! I do have another post on how to teach Common Exception Words.
The Purpose of Sight Words
Based on the lists above, and thinking about our sight word lists, why do we teach sight words? Why do you teach sight words? I don't tend to spend a lot of time teaching sight words because all I see is a lot of memorization. I realize there is more to sight words than memorization, but I think we spend too much time on them and not enough on teaching skills for students to decode. Most of the words on a sight word list are decodable. I want my students to be thinking about relationships of letters and sounds. While I see some value in sight words, I feel I need to see more research to support why I need to spend more time on them.
This Is Still A Thought In Process
I have slowly looked for research on these lists. Many journals cost so I'm going to contact my alumni university to see if I can still get some access to journals. I like reading articles, not the 80 pages ones! I love to learn and am willing to admit if I am doing something wrong, or not giving students the best language arts program I can be.
Now, this year doesn't count a whole lot due to remote/blended/online learning. I only have students until 11:40am, so literacy is less than 40 minutes a day. But I've started to re-think how I'm going to do "stuff" in the new year. I'll be blogging about that soon. In the mean time, if you are interested in spelling rules, check out this blog post!
Hope you and your students are staying safe.
Happy Teaching!