If you watch my Youtube channel, you will get use to me saying that Teachers Pay Teachers has over 5 million resources being sold on it. Gone are the days where you could post a product and get sales right away. You need to market your TPT products. Whether you are new to TPT or have been on TPT for some time, our goal today is to help you find a marketing strategy that can help you get your products seen.
There Isn't One Way To Market Your TPT Products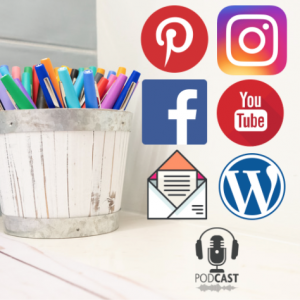 There are several options when choosing a marketing strategy:
Email List
Pinterest
Instagram
Facebook
Website/Blog
Youtube
Podcast
Facebook Ads
Each are effective but all will take some work. Remember, having a Teachers Pay Teachers business is a long game. Marketing is like a slow cooker for me. Your audience needs time to get to know you and trust you.
So, which platform do you choose? Email lists are considered the most effective because you are not dependent upon an algorithm to be seen. If you haven't started an email list, I would highly recommend you start.
My Favourite Among the Bunch
Outside of my email list, I'm going with Pinterest. You can just create pins that best display your content. Create a variety of static pins, video pins and Idea pins. You can also add a UTM code to track the pin back to TPT! I recently made a video on UTM codes, over on my Youtube channel.
In this video I show you how to create a UTM Code (it's easy) and within 2 days of creating the pins in this video, I saw one showing up on TPT Traffic (see image below).
Marketing isn't usually fast. It takes time to build an audience, establish relationships, and gain trust. Whether you are just starting your TPT Store or have been building it for years, finding the right marketing for you will impact your store sales in a wonderful way. If you are new, just pick one, and then stick with it for at least 6 months before you decide to try something else.
What are you currently using, or are you looking to start? Let me know! I would love to help you get started.
Until then,
Happy Selling!